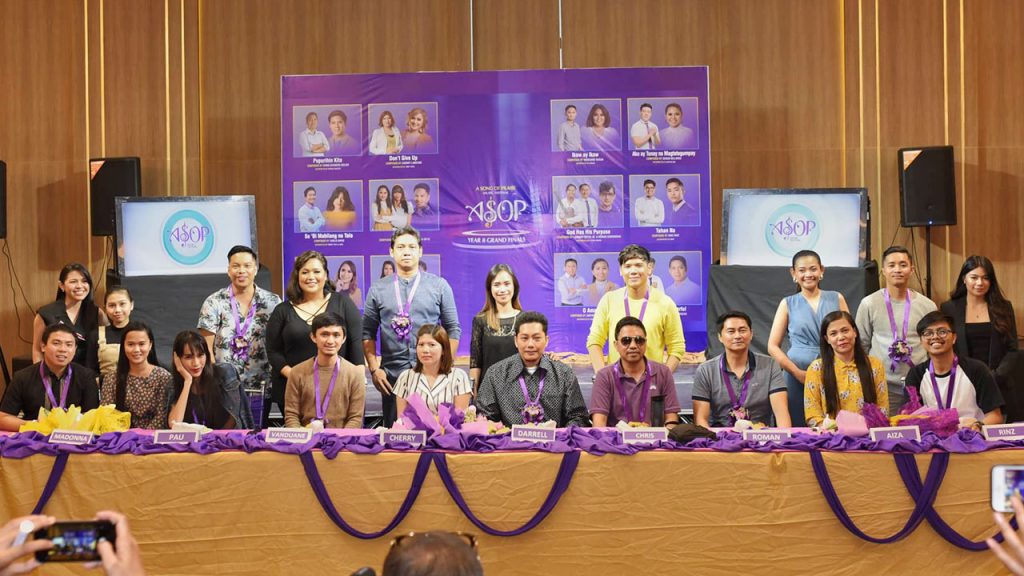 A Song Of Praise (ASOP) Music Festival has been providing aspiring and professional songwriters an avenue to follow their passion of praising God through music for eight years now.
Since its kickoff last 2011, praise songs have developed for the last eight years with its growing popularity, changing style and genres serving the taste of the millennials through this weekly songwriting contest of UNTV. 

After 12 months of thorough competition, ASOP is set to stage its Grand Finals Night at the New Frontier Theater, Araneta City, Cubao, Quezon City on November 10, 2019, Sunday, 7 p.m.

Twelve masterpieces will vie for the much-coveted "Song of the Year" title with P800,000.00 (tax-free) cash prize. As announced by Breakthrough and Milestones Productions International, Inc. (BMPI) President and Chief Executive Officer (CEO) Kuya Daniel Razon in last year's finals night, cash prizes will increase a hundred thousand every year. Cash prizes of P50,000.00 each are up for grabs for two special awards, "Best Interpreter" and "People's Choice" and P200,000 for "Bro. Eli Soriano's (BES) Choice" award.

This year's final entries are as follows:

SONG TITLE: O AMA
COMPOSER: JHOTER JONE VILLAN
INTERPRETER: CHACHA CAÑETE

SONG TITLE: ALAY KO
COMPOSERS: MADDONNA ROSAS AND PAU ORTIZ
INTERPRETER: BRENAN ESPARTINEZ

SONG TITLE: IKAW AY IKAW
COMPOSER: VANDUANE BADUA
INTERPRETER: RADHA

SONG TITLE: DON'T GIVE UP
COMPOSER: CHERRY LABATING
INTERPRETER: JINKY VIDAL

SONG TITLE: DIOS NG KATOTOHANAN
COMPOSER: DARRELL JOSEPH VILLANUEVA
INTERPRETER: NIÑA ESPINOSA

SONG TITLE: PUPURIHIN KITA
COMPOSER: CHRIS GIVENCHI EDEJER
INTERPRETER: GERALD SANTOS

SONG TITLE: SA 'DI MABILANG NA TALA
COMPOSER: CARLO DAVID
INTERPRETER: GIDGET DELA LLANA

SONG TITLE: YOU ARE WONDERFUL
COMPOSER: FRANZ LOREN BIGCAS
INTERPRETER: MARK LAYGO

SONG TITLE: GOD HAS HIS PURPOSE
COMPOSER: LAMBERT REYES, JR. AND ROMAN CUNDANGAN
INTERPRETER: ETHAN LOUKAS
SONG TITLE: SAGWAN
COMPOSER: AIZA NARAG
INTERPRETER: LOUIE ANNE CULALA
SONG TITLE: AKO AY TUNAY NA MAGTATAGUMPAY
COMPOSER: SHAUN BILLONES
INTERPRETER: KIM BALUZO
SONG TITLE: TAHAN NA
COMPOSER: RINZ RUIZ
INTERPRETER: VANZ
ASOP Music Festival is hosted by Richard Reynoso and Toni Rose Gayda and airs every Sunday, at 7 p.m. on UNTV, Your Public Service Channel.

For more information about ASOP Music Festival, visit its official website. You can follow ASOP on Facebook, Twitter, and Instagram. You can stream previous ASOP albums on Spotify and watch its music videos on YouTube.